Anita the Teenage British Witch: Georgy Girl meets Granny Weatherwax.
Ace Books, 1970, 221 pages

Meet Anita Thompson: she's young, she's lovely, she's clever ... and she's a witch. A real one.

Anita lives in two worlds: the modern world of supermarkets and sports cars, radio and rock & roll, where she is a thoroughly modern girl with a thoroughly modern interest in boys and fast living and her own independence. But the ancient and rustic world of traditions, cauldrons, and familiars , where she and her Granny (a witch of the Old School, broom and all) invoke elemental spirits in the service of Him Wot's Down Under. She has senses no ordinary mortal can imagine (at least nine); with them, she can hear the voices of every creature of the night. She can changer her shape, call a drowned corpse from a lake, reverse the flow of time, and ride the Sea Serpent (there's only the one, you know; always has been -- always will be) deep into the ocean in the company of a mermaid, even though the modern world is trying to crowd aside -- and even change -- that world of witchcraft and magic. Yet, complicated as a young witch's life may become, Anita never loses her sense of fun, or her essential innocence.

Anita was a teenager when Samantha was a housewife.
Verdict:
These stories are a trip, a dated trip back to 60s Britain.
Anita
is a precursor to
Sabrina the Teenage Witch
,
Charmed
,
Buffy
, and the entire contemporary urban fantasy genre. I would love to see someone write Harry Potter fan fiction with Anita appearing at Hogwarts. 7/10.
---
My complete list of book reviews.


The Sword in the Stone, T. H. White (Collins)
Out of the Silent Planet, C. S. Lewis (The Bodley Head)
Galactic Patrol, E. E. Smith (Astounding Stories, February 1938)
The Legion of Time, Jack Williamson (Astounding Science-Fiction, July 1938)
Carson of Venus, Edgar Rice Burroughs (Argosy, February 1938)

The winner was The Sword in the Stone, which was of course the first installment of The Once and Future King. The Once and Future King happens to be the first fantasy novel I ever read, and I can still remember the huge impact it had on me.. For this reason it's impossible for me to judge such a book dispassionately, although I will note that when I re-read it some years later I still loved it.

So what do you think of these awards? Do you think The Sword in the Stone was a worthy winner?
The 1939 Retro-Hugo Awards were awarded this month. The five nominees for best novel were:
A multi-generational, literary tale of Hollywood monsters and Jim Crow.
Tor, 2013, 99 pages.
Available online at
tor.com
.

Wakulla Springs. A strange and unknown world, this secret treasure lies hidden in the jungle of northern Florida. In its unfathomable depths, a variety of curious creatures have left a record of their coming, of their struggle to survive, and of their eventual end. Twenty-five thousand years after they disappeared from the face of the Earth, the bones of prehistoric mastodons, giant armadillos, and other primeval monsters have been found beneath the seemingly placid surface of the lagoon. The visitor to this magical place enters a timeless world of mystery.

A dreamy, magical piece of historical fiction...but is it fantasy?
---
My complete list of book reviews.
Snow White is the gunslinging half-breed daughter of a silver baron in Catherynne Valente's latest retold fairy tale.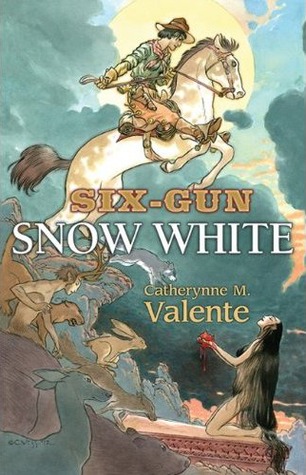 Subterranean, 2013, 168 pages

From New York Times bestselling author Catherynne M. Valente comes a brilliant reinvention of one the best known fairy tales of all time. In the novella Six-Gun Snow White, Valente transports the title's heroine to a masterfully evoked Old West where Coyote is just as likely to be found as the seven dwarves.

A plain-spoken, appealing narrator relates the history of her parentsóa Nevada silver baron who forced the Crow people to give up one of their most beautiful daughters, Gun That Sings, in marriage to him. With her mother's death in childbirth, so begins a heroine's tale equal parts heartbreak and strength. This girl has been born into a world with no place for a half-native, half-white child. After being hidden for years, a very wicked stepmother finally gifts her with the name Snow White, referring to the pale skin she will never have. Filled with fascinating glimpses through the fabled looking glass and a close-up look at hard living in the gritty gun-slinging West, readers will be enchanted by this story at once familiar and entirely new.

Note:
This year, I am going to try to read and review as many of the Hugo Nominees as I can. I will tag them with 2014 Hugo Nominee.
Does the world need yet another version of Snow White? Does the world need more zombie apocalypses or space operas? (Dear Catherynne Valente: I would totally read a zombie apocalypse written by you.)
---
My complete list of book reviews.
I've noted that no-one has posted a list of the best fantasy fiction they read in 2013. Would anyone like to share such a list with us?
Dragonriderskin of Two MoonsThree Worlds.
Night Shade Books, 2011, 278 pages

Moon has spent his life hiding what he is - a shape-shifter able to transform himself into a winged creature of flight. An orphan with only vague memories of his own kind, Moon tries to fit in among the tribes of his river valley, with mixed success. Just as Moon is once again cast out by his adopted tribe, he discovers a shape-shifter like himself... someone who seems to know exactly what he is, who promises that Moon will be welcomed into his community. What this stranger doesn't tell Moon is that his presence will tip the balance of power... that his extraordinary lineage is crucial to the colony's survival... and that his people face extinction at the hands of the dreaded Fell! Now Moon must overcome a lifetime of conditioning in order to save himself... and his newfound kin.

It took me a while to figure out why this book was annoying me so much.
---
My complete list of book reviews.
Charles Beadle,
The Land of Ophir
. Fun lost world tale. Published in 1922.
Joseph E. Badger Jr,
The Lost City
. Another lost world tale, plus it has airships and Aztecs. Published in 1898.
H. Rider Haggard,
Ayesha - The Return of She
. The sequel to his masterpiece,
She
. Published in 1905.
E. Charles Vivian,
City of Wonder
. Yet another lost civilisation tale. Published in 1922.
My favourite fantasy reads of 2013:
City of Wonder
, published in 1922, is the best known of E. Charles Vivian's lost world adventure novels. If anyone's interested I've reviewed it
here
on my
Vintage Pop Fictions
blog.