A post-apocalytic dark fantasy about a twelve-year-old harper.
Haunted Stars Publishing, 2013, 185 pages

The Red Empress is the only home Erzelle has known since the day her family was lured aboard and murdered, victims of a grisly ritual meant to make the elite immortal. Erzelle plays her harp for the diners inside this ghoul-infested riverboat, knowing her own death looms, escaping through the music that's all she has left of her parents.

Her nightmare's upended in the space of a day by the arrival of Olyssa, a fellow musician, but so much more.

Erzelle is swept up in Olyssa's quest to find her ensorcelled sister Lilla, a journey across a mutated landscape that leads them to an enemy responsible for the deaths of millions. To stop the slaughter of countless more, the pair has no choice but to draw on the deadly magics that reshaped the world... a power that's as dangerous to its wielders as it is to its foes, that's killing Erzelle even as she fights to control it.

Atmospheric dark fantasy with music and black fire.
---
My complete list of book reviews.
A hacker in an unnamed Middle Eastern country accidentally starts a revolution, with a little help from djinn.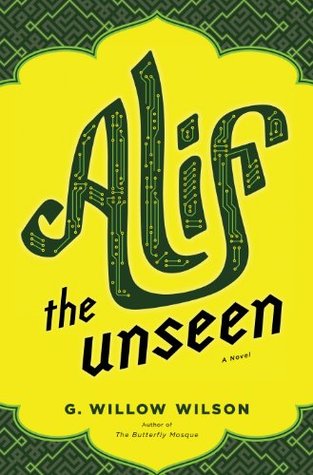 Grove Press, 2012, 320 pages

Alif has encountered three strokes of bad luck. The aristocratic woman he loves has jilted him, leaving him with only a mysterious book of fairytales. The state censorship apparatus of the emirate where he lives has broken into his computer, compromising his business providing online freedom for clients across the Islamic world. And now the security police have shown up at his door. But when Alif goes underground, he will encounter a menagerie of mythical creatures and end up on a mad dash through faith, myth, cyberspace, love, and revolution.

A more optimistic, fantasy-tinged version of the Arab Spring.
---
My complete list of book reviews.
A grimdark modern sorcerer fights grimdark villains grimdarkly in this grimdark urban fantasy.
Tor, 2015, 320 pages

In the more shadowy corners of the world, frequented by angels and demons and everything in between, Laytham Ballard is a legend. It's said he raised the dead at the age of 10, stole the Philosopher's Stone in Vegas back in 1999, and survived the bloodsucking kiss of the Mosquito Queen. Wise in the hidden ways of the night, he's also a cynical bastard who stopped thinking of himself as the good guy a long time ago.

Now a promise to a dying friend has Ballard on the trail of an escaped Serbian war criminal with friends in both high and low places - and a sinister history of blood sacrifices. Ballard is hell-bent on making Dusan Slorzack pay for his numerous atrocities, but Slorzack seems to have literally dropped off the face of the Earth, beyond the reach of his enemies, the Illuminati, and maybe even the devil himself. To find Slorzack, Ballard must follow a winding, treacherous path that stretches from Wall Street and Washington, DC, to backwoods hollows and truck stops while risking what's left of his very soul....

It's like Harry Dresden but sooooooo DAAAAAAAAARK MAAAAAAAN!!!!
---
My complete list of book reviews.
The forces of light and darkness clash in this Russian urban fantasy.
Hyperion, 1998, 455 pages

Set in modern day Moscow, Night Watch is a world as elaborate and imaginative as Tolkien or the best Asimov. Living among us are the "Others", an ancient race of humans with supernatural powers who swear allegiance to either the Dark or the Light. A thousand-year treaty has maintained the balance of power, and the two sides coexist in an uneasy truce. But an ancient prophecy decrees that one supreme "Other" will rise up and tip the balance, plunging the world into a catastrophic war between the Dark and the Light.

When a young boy with extraordinary powers emerges, fulfilling the first half of the prophecy, will the forces of the Light be able to keep the Dark from corrupting the boy and destroying the world?

Not so much black and white as many grim shades of gray.
---
My complete list of book reviews.
In the Grip of the Minotaur
, a novel by Farnham Bishop and Arthur Gilchrist Brodeur, was serialised in
Adventure
magazine in 1916. It might play a bit fast and loose with history but it's undeniably entertaining. And it has Vikings taking on the Minoan Empire!
Here's my review
on my book blog.
A world of witches, the Inquisition, and nuclear warfare.
Amazon Digital Services, 2014 (originally published in Russian in 1997), 330 pages

Is it easy to be a witch? Who can, and more importantly, who would want to understand her: this evil otherworldly creature, the symbol of promiscuity and whimsy? The symbol of the Woman?

Is it easy to be the Great Inquisitor? Who can, and more importantly, who would want to understand him, a heartless executioner, carrying out the will of the Inquisition? What would happen if the souls of these two, as incompatible as ice and fire, come into contact?

The novel THE AGE OF WITCHES contains several winningly rare combinations: that of a thriller, detective and melodrama, Western traditions and Eastern European textures. The epic scope of events and tension go hand in hand with the intense psychological twister representing the characters' inner lives. An element of mystery allows for a new approach to the ancient questions.

What makes the novel unique? The dense atmosphere of a modern city is invaded by the poetry of folk demonology. The characters abide by the cruel laws of nuclear society, and by those of a mythical world. This is a book about love, but also about the price of freedom, and the meaning of life. It is about what can save our world from being suffocated by contradictions and hate.

"Death to all things foul!" in this weird contemporary Russian urban fantasy.
Also by Sergey and Marina Dyachenko
: My reviews of
The Scar
and
Vita Nostra
.
---
My complete list of book reviews.
Tigana, and also most of Tim Powers' fantasy novels, is that magic is either difficult to do or it imposes a heavy cost on the magic user. This has the advantage of making magic less than all-powerful and therefore means the author cannot easily use magic to get out of plot difficulties.

What fantasy novels in this category, where magic is not easy to use, have you particularly enjoyed?
One of the things I liked about Guy Gavriel Kay's
An Edwardian psychic detective chases Scooby Doo villains and the occasional Outer Monstrosity.
Wordsworth Editions, Ltd, 2006, 191 pages
.
Available for free
on Project Gutenberg. (The Gutenberg edition is missing three stories — you can also find all of them
here
.)

Thomas Carnacki is a ghost finder, an Edwardian psychic detective, investigating a wide range of terrifying hauntings presented in the nine stories in this complete collection of his adventures. Encountering such spine-chilling phenomena as 'The Whistling Room', the life-threatening dangers of the phantom steed in 'The Horse of the Invisible' and the demons from the outside world in 'The Hog', Carnacki is constantly challenged by spiritual forces beyond our knowledge. To complicate matters, he encounters human skullduggery also. Armed with a camera, his Electric Pentacle and various ancient tomes on magic, Carnacki faces the various dangers his supernatural investigations present with great courage. These exciting and frightening stories have long been out of print. Now readers can thrill to them again in this new Wordsworth series.

Invisible horses, demonic pigs, stolen rare books, haunted ships, and good-old fashioned human skulduggery.
---
My complete list of book reviews.